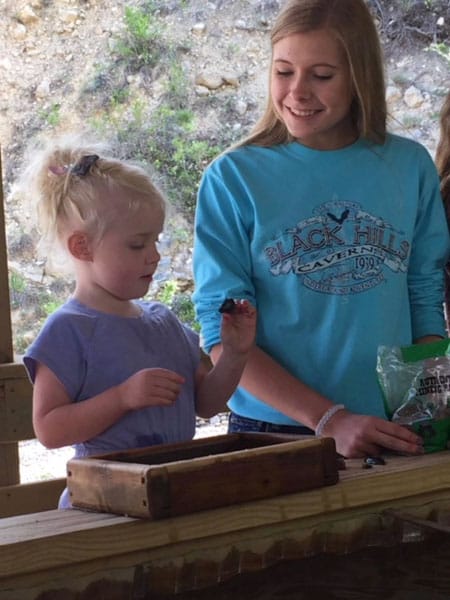 Gemstone Panning
The Black Hills Caverns allows anyone to pan for real gemstones. This activity is great for kids of all ages. Keep your treasures as you learn to identify numerous Black Hills rocks, minerals, gems, and fossils. Our different types of mining packs offer gems and fossils from 100 million years old all the way to 500 million years old. Come mine for over 53 different types of Gems! Be sure to ask about our daily specials on Gemstone Panning and the discount if you are also going to sign up for one of our awesome Black Hills Caverns Cave Tours. Come find gems and fossils from Mexico, the United States, South America, Asia, & Africa.
Great care must be taken to protect & preserve these great underground wonders. Caves are non-renewable, natural resources which benefit and enrich our lives in many ways, few of which are: insect control, scientific knowledge, water supply, education, and recreation.
Gemstone Bags

w/ Tour
Red Bag
$9.99
$7.99
Yellow Bag
$11.99
$9.99
Green Bag
$13.99
$11.99
Gemstone Buckets

w/ Tour
Rock Hound Bucket
$14.99
$12.99
Shark Teeth & Fossil Bucket
$14.99
$12.99
Emerald Bucket
$15.99
$13.99
The Big Bucket
$24.99
$22.99
Crystal Mining
Super Fun and FREE for Kiddos under 6 who join their parents on either Cave Tour. Dig for rough crystals, and keep your favorite three.
A Safe and enjoyable time for the little ones and Moms and Dads too!